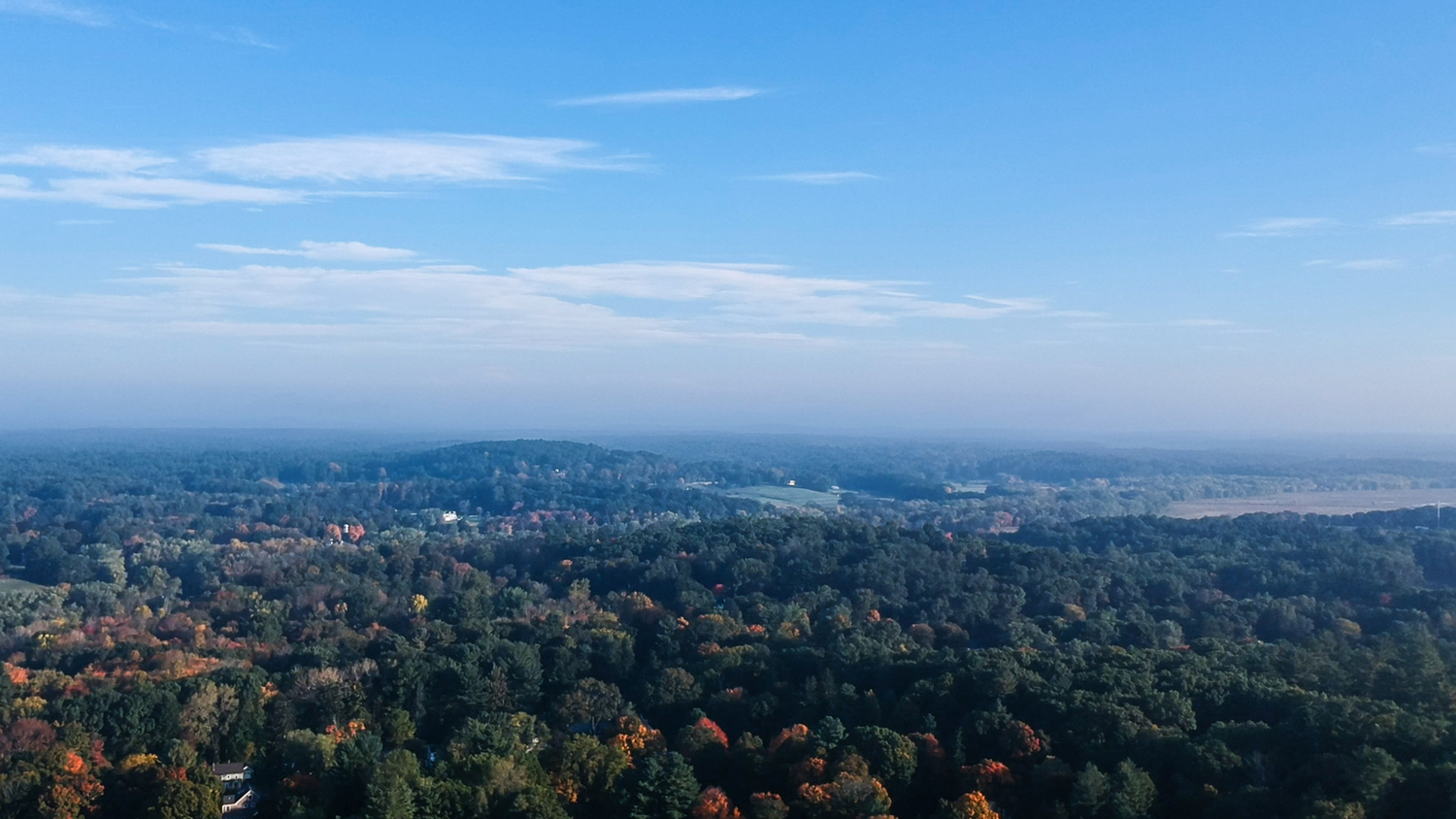 Natural Resources
Concord's Goal: Concord's natural resources are enhanced and supported to provide resilience benefits to the community and to maximize biodiversity and carbon sequestration.
The Town will achieve this through the development of a forest management plan, promoting sustainable landscaping practices, increasing indoor and outdoor water conservation, and ensuring the benefits of the tree canopy is maintained and enhanced
Concord has a rich diversity of land types within its boundary. Forests, wetlands, and meadows are accompanied by developed areas, buildings, and roads.
Maintaining high quality natural areas is a strength of our town, and it ensures that there are restorative places that residents, as well as the plants and animals we share this space with, can enjoy.
Data developed from the State of Massachusetts 2016 Land Cover GIS layer.

Despite being a fairly small portion of the overall land cover in Concord, developed and impervious spaces, shown in the related image in grey, are not evenly distributed across town.
Impervious surfaces generate large amounts of stormwater runoff and create heat islands, where the heat is significantly higher than other areas in Town. The negative impacts of these areas can be reduced by planting trees and incorporating other natural features, such as rain gardens, to reduce stormwater runoff, create cooling shaded areas, provide urban pockets of wildlife habitat, and better blend in with the surrounding landscape.

Many of the open space areas in Concord are managed by the Town, land trusts, the State and Federal Governments, and private landowners.
The Town maintains and manages conservation lands to maximize their potential for biodiversity and wildlife habitat. These areas also provide passive recreation resources for residents, and provide the Town with significant ecosystem services such as carbon sequestration, clean air and water, and natural hazard regulation.
Part of preserving a healthy and productive landscape is managing the amount of resources we extract from it, an important example being water. Residential water consumption is an important area to be addressed. Seven out of 10 gallons of water used by residents in Concord are used inside the home.
Additionally, as much as 50% of the water we use outdoors is wasted from inefficient watering methods and systems, meaning that we must be more conscious of how we water our lawns and gardens.
There are many simple ways to reduce our water usage, often translating to cost savings at home. Shortening your shower by one minute can save 540 gallons a year.
To learn more about reducing water consumption at home and outdoors, check the Town's Water Conservation web page.
The Town has a growing set of resources to help homeowners and businesses create landscapes to advance our natural resource protection goals.
Thanks to the generous support of the Barr Foundation and the Metropolitan Area Planning Council, The Sustainable Concord Landscape Handbook was designed to help you create, install, and care for your landscape in a way that conserves water, takes the changing climate into account, and promotes the health of native species.
In addition the Natural Resources Division has created a Native Plants for Sustainable Landscaping Brochure with rich information on selecting plants for supporting wildlife throughout the seasons.
There are over 22,000 trees cataloged in the Concord Street Tree Inventory. The inventory documents their species, size, condition, and location, and provides a good snapshot of the overall condition of this large natural resource.
The chart below shows the number of trees by size with diameter measured at breast height and grouped by their condition rating. Concord has a number of large trees in good condition, an indication of the high level of care they've received over their long lifespan.
One factor to consider in tree canopy health is that there will always be some tree damage and mortality in any given year. To ensure we continue to have a steady rate of canopy coverage, we will need to maintain a large cohort of new young trees to become tomorrow's champions. In the graph, we are able to observe the overall age structure of Concord's tree population which displays a healthy canopy that will last for generations to come. The overall age structure of Concord's tree canopy is good.
While Concord's public trees are in overall good condition and the population is fairly diverse, there is still great opportunity to grow it even further. As of the 2017 tree inventory, there were 678 open tree plots and another 399 locations occupied by a dead tree. That means there are spaces for 15% more trees to shade our sidewalks, clean the air, and intercept stormwater.
You can explore more about the benefits of our public trees through our interactive tree inventory map.
Help Keep Concord's Natural Resources Healthy
Climate change and pollution threaten our natural resources. By taking steps to reduce harmful runoff and create healthy soil, you can help keep our environment healthy for plants, animals, and people.
---
Rain barrels allow you to reuse rain water to water your outside spaces.
Rain gardens increase infiltration into the ground, limit runoff, and create a welcoming habitat for pollinators.
Invasive species reduce the diversity and health of our natural areas and everyone can help keep them at bay.
Planting smart can beautify your home while providing ecological benefits. Learn more with the Concord Sustainable Landscape Handbook.